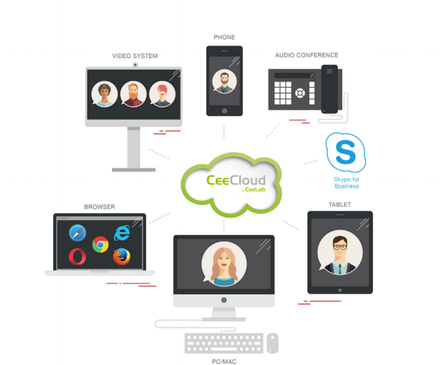 For some of us we are convinced that Video Conferencing is an easy and efficient way of communication, but it only works if you can convince others to use it as well, otherwise you are sitting in a virtual meeting room on your own.
One of the issues with Video Conferencing is that people don't necessarily like to try new things, and can use negative experiences of Video Conferencing from the past to rationalise why they are not willing to try Cloud Video Conferencing today
At CeeLab we are convinced that the new Cloud Video Conferencing is not like Video Conferencing of the past; in the past Video Conferencing was for the techy in the business. Now, with new Cloud Video Conferencing it is for everyone, but you have to persuade others in the team that it is a good idea to give it a go, here are some tips to try:
1. Emphasise the flexibility
Whilst I write this article I am working from my home office, there is no need to go into the office today as I am completely connected to the office through Cloud Video Conferencing and so if I need to talk to someone I can connect to them through CeeLab powered by Videxio, this will save me time today as I will avoid the commute to and from the office, also it means I can be at home for a important package that it arriving today. I will still go to the office this week, but with Cloud Video Conferencing not being in the office doesn't mean I'm not working and I am still able to remotely attend important meetings.
2. Less need to travel
In the morning I speak to my colleagues in Norway, in the evening I speak to my colleagues in California, during the day I speak to my colleagues elsewhere in the UK; what this says is that you don't have to travel to meet colleagues you can have excellent face-to-face meetings with colleagues in real time though the power of Cloud Video Conferencing.
3. Videoconferencing is more efficient than being there
Once you factor in the time and cost of traveling to any remote meeting then Cloud Video Conferencing wins hands-down. Everyone loves the face-to-face meeting, but whilst an entire afternoon can be used for getting to and from a meeting; the entire meeting is over in 60 minute if it is held online as there is no time or cost when all delegates can attend from their smart devices.
4. Cloud video conferencing will give you a more connected team
There is always someone who can't make a meeting because they are traveling or must be off-site that day, but if you have a Cloud Video Conferencing system in place you can remove one of the barrier to having a quick 30-minute team chat as the colleague can join in remotely. Once this becomes part of the regular workflows one of the frustrations of having one guy who in never available goes away.
5. Cloud Video Conferencing is simple to use
Cloud Video Conferencing is not the Video Conferencing of the past, we have gone beyond a technology built by engineers for other engineers, we are in a post-consumer world where ease of use has been built into Cloud Video Conferencing.
Contact CeeLab today for a free demo and a free 30-day trail.