Welcome to this week's newsletter from CeeLab. This newsletter is a mixture of news and stories from Ceelab. If you want to subscribe to our newsletter or have any questions regarding our Cloud Video Conferencing please don't hesitate to contact us.
What's wrong with Cloud Video Conferencing?
What's wrong with video conferencing:
There's nothing wrong with video conferencing, but sometimes people have a poor experience and like everything else there is always a reason:
1) Poor hardware – Poor microphones and poor speakers are the biggest culprits for a poor user experience when video conferencing. The effect is that you either can't be heard by others, or you can't be heard by others; or a little bit of both.  What to do, of course at CeeLab we are biased so please click the link to get a combined microphone and speaker from Sennheiser.
2) Poor bandwidth – There are two culprits for poor bandwidth, one is your local internet connection, and the other is the bandwidth of the supplier of your Cloud Video Conferencing Technology.
At CeeLab we have a checklist which allows you to test your hardware and bandwidth ahead of your Cloud Video Conferencing.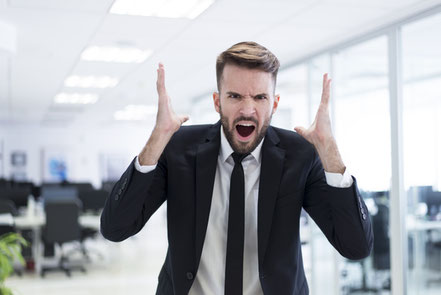 At CeeLab we are crazy about Video Conferencing
If you are looking for a partner to help provide, install and train you and your team in Video Conferencing then please take a look at the home office of one of our directors. Clearly this is a team that is passionate about tools to make business more efficient including Video Conferencing.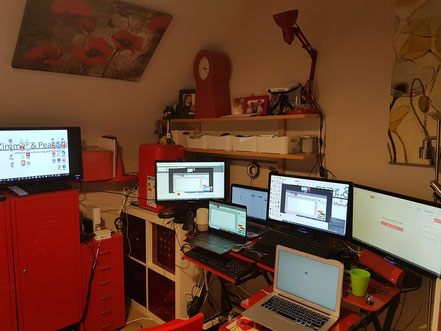 Tip for a pocket sized second monitor
At CeeLab we believe that Cloud Video Conferencing means you can stay connected even when remote from the office. If you, like us, find having a second monitor super useful then always carry an HDMI and VGA cable in your bag as you may be able to plug into a hotel TV and use it as a second monitor.
As a back-up we carry the Magnasonic Pico Projector, this pocket sized projector can act as a handy second monitor when on the road.
We do a lot of Cloud Video Conferencing when not in the office and having a second monitor means we can share one screen whilst using the second screen for note taking etc.

The beach - work and meet anywhere.
Everyone talks about wanting to get out of the office and working from the beach, this week I tried it and it went pretty well.
The critical part  of working from the beach is being able to attend meetings, so you do require a Cloud Video Conferencing Technology to be able to meet with colleagues, who are hopefully also on their beach .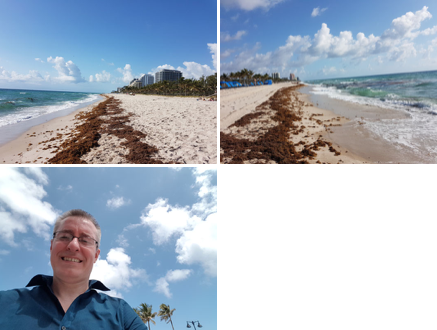 The train - work and meet anywhere.
It's 9 AM Monday morning on a train from Oslo to Skoppum and I am waiting to start a video conference call with a colleague in the United Kingdom. The power of Cloud Video Conferencing means that you can meet with colleagues whilst out of the office and on the move.