Welcome to this week's newsletter from CeeLab. This newsletter is a mixture of news and stories from Ceelab. If you want to subscribe to our newsletter or have any questions regarding our Cloud Video Conferencing please don't hesitate to contact us.
We think it's good to work both at home and the office.
At CeeLab we are supercool with people working both at home and at the office, why?
1. You get more done in less time 😊
I used to work in an open plan office with about twenty people, I liked my co-workers, but how can you concentrate when there are six conversations going on in parallel, including sales guys making and receiving calls?  Allowing people, the freedom to both come into the office and work from home means they can collaborate face-to-face and then break and go 'home' to work against agreed tasks, in a quieter often less distracting environment.
2. Online meetings are much more efficient than face to-face 
Most of what you need for a meeting is on your Laptop/Mac so why bring that to the meeting, why not let the Mac/Laptop bring you to the meeting? Modern online meeting technologies like go-to-meeting, Videxio etc allow remote content sharing and meeting, so rather than walking around with a laptop under your arm just let the laptop take you to an online meeting.
3. Small things don't stop the work day
When you allow people not to be attached to an office, they can design their work day to meet the demands of their lives. If they have a cold, they can work from home without spreading the virus to others; and if they have to take care of a bill they can manage it quickly without losing a business day. 
Video Conferencing from the home office
Working remotely and working from home is one of the most efficient ways of working; as long as you have profession video conferencing technology to allow you to clearly and professionally communicate with colleagues who are also remote or are in the central office. 
In this video we show how easy it is to have a professional video conferencing technology in your small/remote/home office.
CeeLab offers free consultation on setting up a video conferencing  in small offices, so please don't hesitate to contact us, and we'll be happy to meet you online and chat about video conferencing technology.
CeeLab - cameras on drones
At CeeLab we are all about the added value from video and images in helping business collaborate and make decisions; we can help with collaboration across the office to collaboration across the globe
Sometimes we need to put cameras into places where people can't go and hence why we love the drone technology.
If you have a video need and you are looking for some advice on how to achieve it, please feel free to reach out to CeeLab.
CeeLab and Videxio at ISE 2018
CeeLab were delighted to be meet with the Videxo team at their booth at ISE 2018.
At CeeLab we couple our high end video conferencing hardware with Videxio's excellent Cloud Video Conferencing Technology to give an unrivaled Video Conferencing experience.
Please don't hesitate to contact us at CeeLab, for a free consultation on what it takes to put Video Conferencing and collaboration at the heart of your business.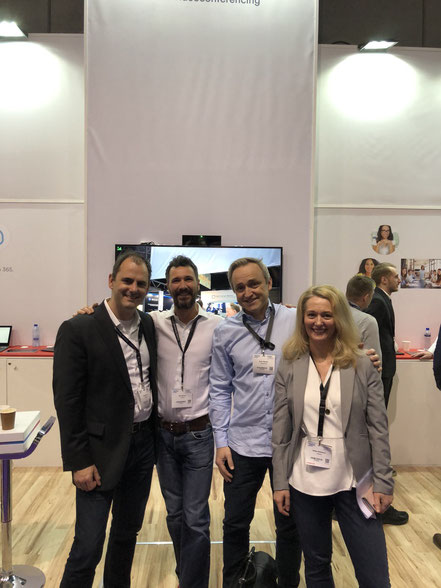 CeeLab and HRT - Huddle
Ceelab is delighted to partner with HRT on their Huddle Technology.
Huddle Hub One is the world's first Virtual Huddle Room.
It gives you the flexibility of collaborating and communicating in every space of your company – offices, open spaces, even lounges – using only the embedded screen and camera of laptops, tablets and smartphones.
At CeeLab we are all about the collaboration; for us it doesn't matter if the collaboration is across the globe or across the office we have a collaboration technology for you.
To find the perfect technology for your collaborations please contact CeeLab.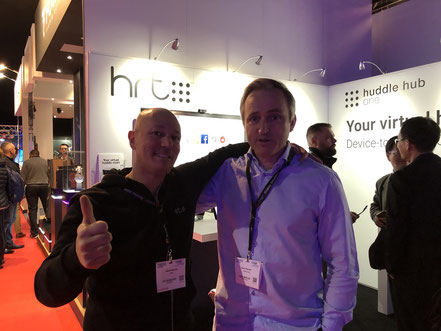 Securing your Cloud Meeting Room
In this video we show you how to set PIN number so that only with a PIN number will people be able to enter your room.
The quickest way is to set  a host pin number, that way the room is only open when the host/owner of the room is there.
If you have any questions don't hesitate to contact CeeLab.
Skype is being blocked in the UAE
In  a recent statement Skype has confirmed that it is  currently blocked by Internet Service Providers in the United Arab Emirates.
Please visit our website to see the statement on the Skype website.
CeeLab with Sony at ISE 2018
CeeLab are a strategic distributors and added value installer of Sony's Video Conferencing Technology, from: codecs, cameras, microphones and more.
Zimmer and Peacock is unique in that we integrate the Sony products with the Videxio Service, thus offering the very best in hardware with the very best in Cloud Video Conferencing Service.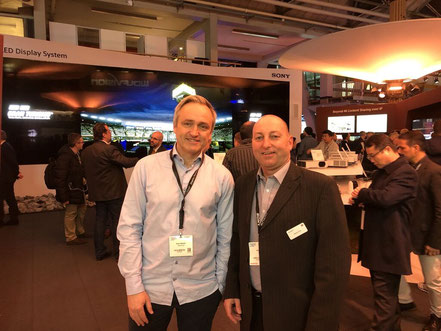 CeeLab and Videxio " ISE 2018
CeeLab knows that the future of buisness and personal communication is Cloud Video Conferencing and that is why we were delighted to meet with Videxio at ISE 2018.
If you have any questions on how CeeCloud powered by Videxio can make video conferencing easy, portable and inter-operable please don't hesitate to contact us for friendly advice and support.