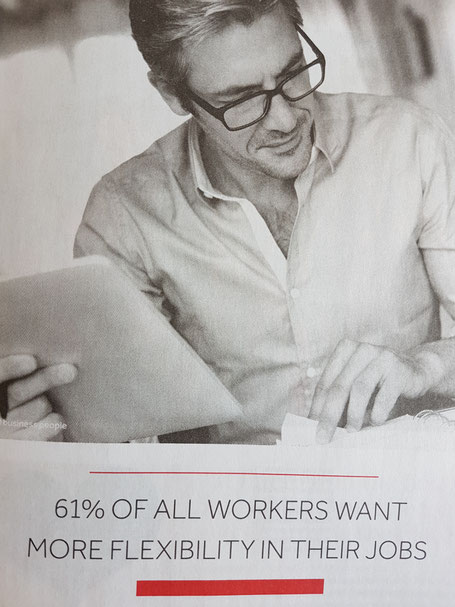 A recent survey by Regus highlighted that 61 % of worker want flexibility in their jobs. In our group of companies, we are a team of twenty and we have work flexibility at the heart of what we do. We have full time employment contracts with a defined total hour, but a flexibility in where and at what time these hours are executed.
In this blog we discuss the practical things we have done and the resulting benefits for the employer and employee.
What are the practical things that we do that aid work flexibility:
1) LAPTOPS - We provide laptops to all workers; these laptops are set-up to automatically synchronise documents in shared folders across these laptops.
2) CLOUD SERVICES - A wide use of Cloud Services for all of the functions within the business including: Accounting, HR Time Sheets, Operations, Engineering, Sales, R and D and Administration.  There is a policy that there is no information on a C drive somewhere, which is inaccessible.
3) SMART PHONES - Paying phone bills – Several of our employees don't have a formal office and we simply pay their cell/smart phone bills.
4) CLOUD VIDEO CONFERENCING - Cloud Video Conferencing/Virtual Meeting Rooms – Everyone in the organisation has their own Virtual Meeting Room, where they can host or attend one-on-one chats or host meetings with up to 50 attendees.
5) TRUST – There has to be trust between employees and employers if you are not granting workers flexibility in their work because of the fear they are not working when not directly supervised then maybe there isn't a good match.  We do use a Cloud Time Tracking System and so hours worked is verifiable, but of course there is a trust that these online time sheets are completed accurately.
As an employer and employee, there is a direct benefit to allowing more flexibility in employee's work, which includes:
1) COMPANY CULTURE – People like their job and the trust granted to them.
2) COST SAVING – We have fewer formal office space because many full-time employees working close to 100 % from home.
3) STAFF RETENTION – We have never had an employee leave.
4) INCREASED PRODUCTIVITY – People are not necessarily productive 100 % of the time, between 9 AM to 5 PM, if you allow people the flexibility to work in the time that they are most productive then you get more and better work form them. For example, we have a guy who is a late riser, but will work until 2 AM in the morning, this means he is responding to customers in Asia and the USA in real-time from the UK.
5)  NO-MORE-COMMUTE – Millions of hours are wasted a year because businesses insists on workers who are predominantly office based all coming to the office at approximately the same time, somewhere between 8:30 and 9:00 AM.  A flexible work attitude allows people to start their day from home, come in for some face-to-face meetings, and then leave before the rush-hour starts, and so get home efficiently and complete the day from home.
6) EMPLOYEE WEALTH – A travel pass for Public Transport can easily run into thousands of pounds a year, so just cutting some of the unnecessary daily commuting will put money back into the Employees pockets.
7) EMPLOYEE HEALTH – A flexible work and life attitude means that an employee can work in the morning, go for a jog at lunch time, take a shower and get back to work in the afternoon, how is this possible? Simply by not commuting the 45 minutes in and out of work everyday gives 1.5 hours back a day for something more productive.
This may all sound like grand ideas but it is a reality for our businesses, and is really the modern way both for business and more generally for society.
Contact CeeLab to discuss how we have put Flexible Cloud Communication at the heart of our clients businesses to make them more effective and productive.